Digital
Marketing

Services.
Our approach to marketing is truly integrated, organic only, and growth focused. Growing your business doesn't mean you have to take unnecessary risks or go broke in the process.
GROWTH-DRIVEN MARKETING.​
Strategic
Digital Marketing

Services
Whether your goal is raise brand awareness, move products and services, generate fresh leads, or increase customer loyalty and word-of-mouth, a multichannel marketing approach can help pave the way.
In-house digital marketing Team
Navigating the Ever-Changing Marketing Landscape
Our Marketing Capabilities:
Whether their written down or not, every business has growth goals. Whether your goal is to raise brand awareness, move products and services, generate fresh leads, or increase customer loyalty and word of mouth, a multichannel marketing approach can help pave the way.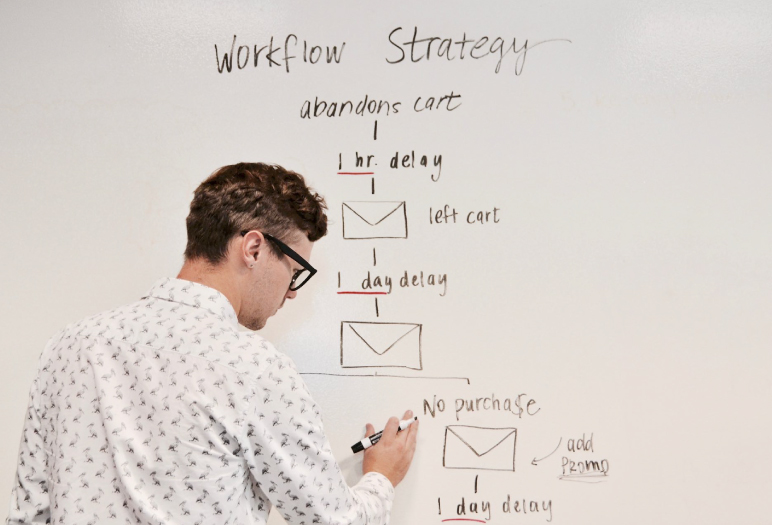 You have goals. A message to send. Products and services to sell. And often, a deadline approaching. That's where multichannel marketing campaigns can help.
We'll take your goals, learn your business, and research your audience to architect a plan that puts you in a position to win. With an arsenal of resources and talent at hand, our team brings your campaign to life and help you distribute it across a variety of channels to reach your audience. Then we tweak, iterate, and optimize until your goal is met – and surpassed.
Deliver a
Seamless Experience.
There's a wide, wide spectrum of customer journeys, purchase paths, and engagement points in today's marketing environment. And across all these different platforms, channels, and mediums, users don't just want their experience with your brand to be seamless. They expect it.
We will help you create a full-funnel and multichannel strategy that reaches customers at every touchpoint, whether their buyer's journey is linear or a spiraling web of engagements.
Ultimately, it's about telling the right story, in the right place, and at the right moments.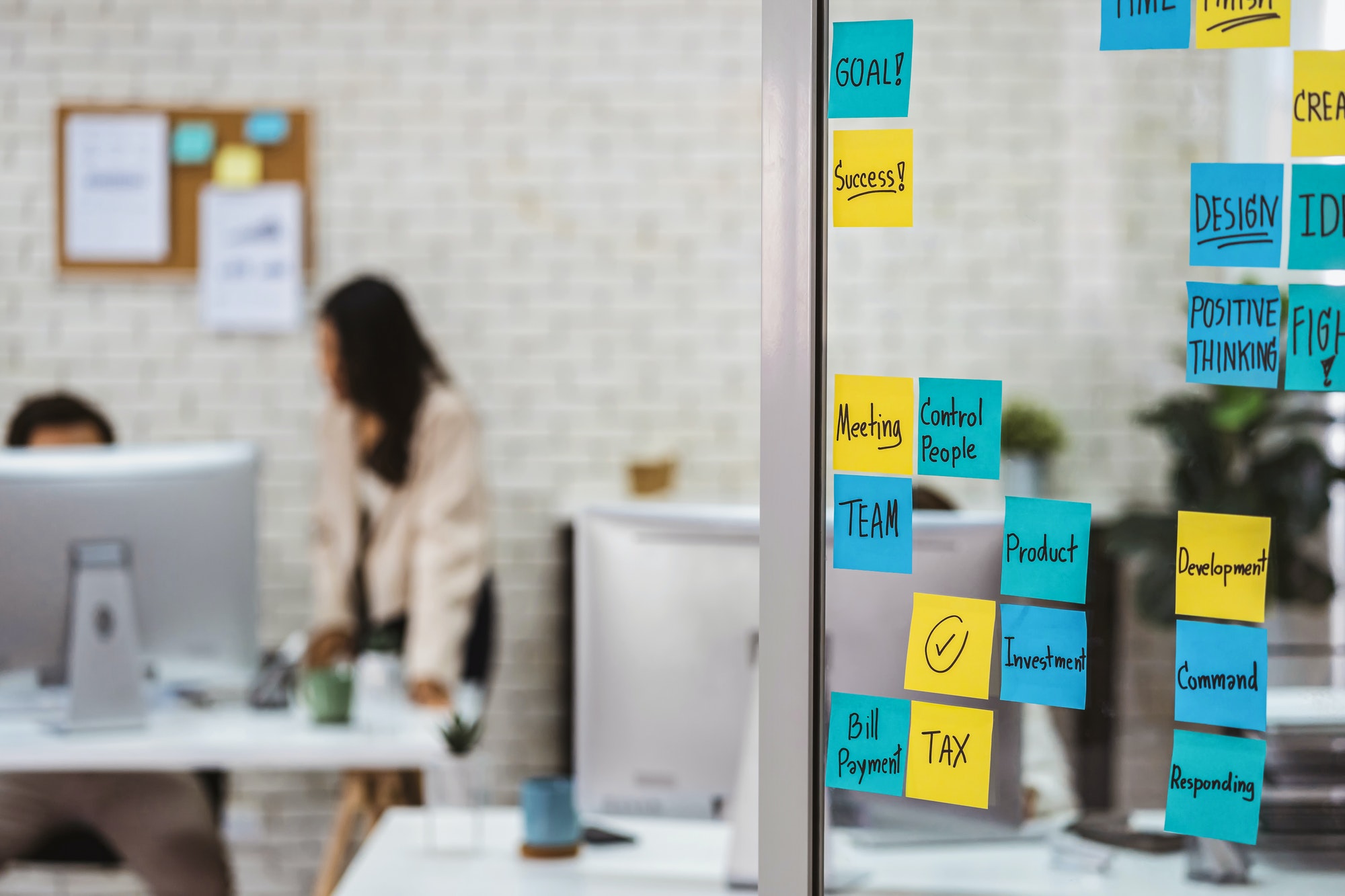 There's no cookie-cutter or plug and play template for launching a successful marketing campaign. It's all about identifying the strategy, determining the metrics that measure success, and knowing the tools and tactics you can use.
When you work us on, you can expect a clear plan to reach the right people, with the right message and offer, all through the channels that drive the biggest impact. If you have a goal, you can count of us to deliver a strategic marketing plan that gets you there.
Meet John Bennett, owner of Excellent Roofing
Increased Revenue by $2.2M in less than 2 years.
"In less than 2 years, King Creative has helped us grow our annual revenue by $2.2M. We've eliminated our marketing challenges, increased our overall online visibility, and now our website is our primary source of new customers."
John Bennett, Business Owner
Excellent Roofing Company in Memphis, TN
You'll Be In Good Company.
Some of the brands we're proud to call
partners and friends.
Answers to your Digital Marketing questions.
Frequently Asked Questions.
What is Search Engine Optimization?
Search Engine Optimization, commonly referred to as SEO, is the act of improving content and webpages in order to rank higher on search engine results pages. Search engines have algorithms that determine which webpages hold the most relevant results, and those pages are ranked highest among the search results.
Using SEO tactics, such as keywords, meta descriptions, and links, your content will stand out to search engine algorithms as relevant information and ultimately rank higher. Ranking higher leads to increased traffic and consumer trust.
What is local SEO?
As compared to standard SEO, local SEO refers to Local Search Engine Optimization. Local SEO comes into play when users are searching for products, services, or resources near their location in real-time.
For example, a search for "shoes" will yield greatly different results than a search for "shoes in Memphis."
Local search often includes locations, which is why companies should keep their Google My Business profile up to date.
What is the main purpose of social media marketing?
Social media falls in the brand awareness stage of the customer value journey.
Social media platforms allow businesses to connect with their target audience and slowly but surely nudge them down the funnel with content and links to learn more.
By providing relevant information about products and services, engaging with their audience, and providing free trials or specials, businesses are able to nurture leads into buyers.
Is email marketing still effective?
We're big believers in email marketing campaigns, as all small businesses should be.
However, the problem is that most businesses do know how to effectively execute email marketing, nurturing subscribers, and properly segmenting their audience / emails lists.
Unlike social media platforms, emails are personal and individualized to your most loyal consumers. The email content is designed specifically for individuals who are interested in and have agreed to receive email communications from your company.
Emails allow you to communicate directly with your audience, which can turn an interested user into an active consumer.
What is CRO (conversion rate optimization)?
Conversion optimization is the process of increasing the number of website visitors that convert into active customers. By improving your website's user experience, users are more likely to complete the desired action on the page, whether that is signing up for emails or completing a transaction.
The best ways to improve user experience is by removing unnecessary content, annoying pop-ups, offer guarantees, provide live support, and add testimonials or reviews.
What is content creation?
Content creation involves generating topic ideas and creating written or visual content around those ideas in the form of a list, email, blog, video, infographic, or ebook.
Content allows brands to provide useful information to their audience, which helps retain existing customers and attract new customers.
Does my company need a Google My Business profile?
Yes, 100%. Not only does Google My Business gives companies control over their business listing, it allows them to attract and engage with customers. Your GMB profile provides your brand with a professional online presence that appears when users are searching for your company, products, and services.
Under the Customers tab, brands can interact with customers by responding to reviews or booking services. Companies can also find insights that allow them to fully optimize customer engagement efforts.
How much should my business spend on marketing?
According to an SBA survey, most small businesses spend an average of 10.4% of their revenue on "overall marketing activities."
These expenses include salaries, and both traditional and digital marketing costs.
10% is generally the minimum investment that companies make just to keep the lights on. However, companies that have higher growth goals should plan to spend more than 10%.
Check out this breakdown from the Wall Street Journal of the biggest industry spenders on marketing services: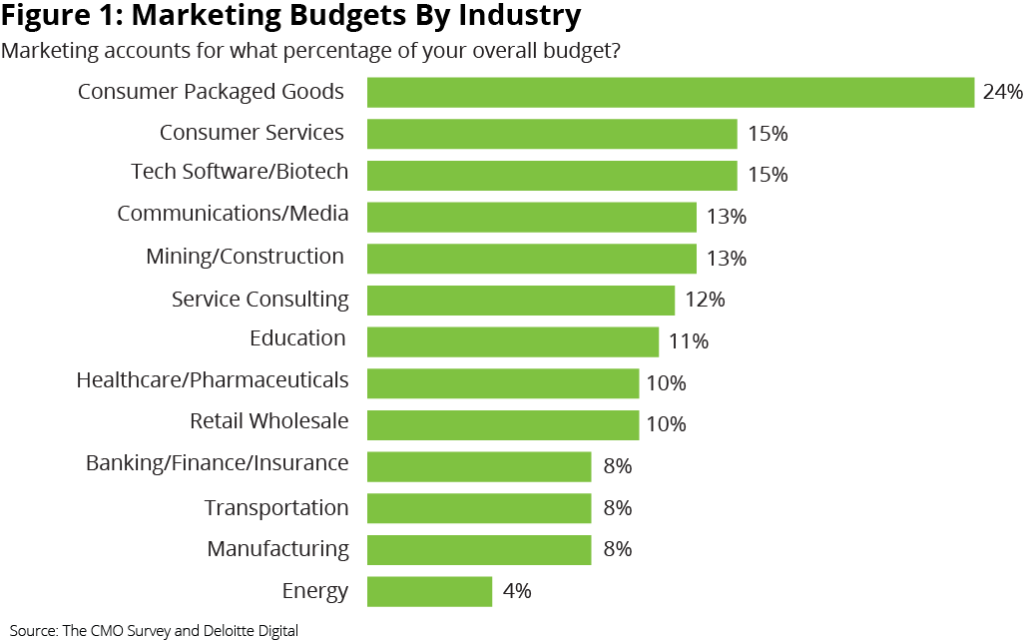 Explore our other
services.
Strategy
Solutions and strategies for business, sales, marketing, branding, and messaging problems.
Explore Strategy
Creative
Creative collateral for brands to tell their stories, connect with their audience, and inspire potential customers.
Explore Creative
Web Development
Beautiful, functional, and scalable websites and digital environments to connect with new and existing customers.
Explore Development